How can product managers interact with other teams to drive best business results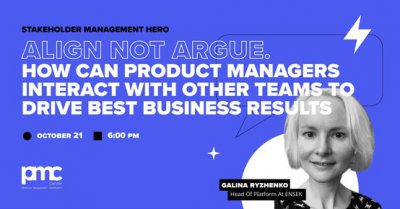 Stakeholder Management Hero ⚡️ Only 20 places
In Module 4 of our education course, we want to dive into the topic of how to manage inputs, requests and 'wants' from other product teams
📍 During this half webinar/half workshop we will cover a little bit of crucial theory and jump straight to the practice. Be prepared for very focused and insightful 2 hours. In detail we will go through:
Marketing, Sales, Customer Success, Legal, Infosec… what do those teams expect from product management
Understanding each team's mental model and choosing the right mode of communication
How might product managers benefit from collaboration with each of those functions, to create successful products?
⚡️ Trainer — Galina Ryzhenko, Head of Platform at ENSEK | Product leader with strong customer success and digital strategy background and 10+y. experience in various aspects of software product management (discovery, productization, go to market strategies, scaling and lifecycle management). Currently Galina is responsible for platform product management at ENSEK, creating a next-gen end-to-end SaaS solution for energy suppliers. Previously: Head of Product at Netpulse and Star.
⚡️ PRICE 20 USD | To purchase a ticket go here
🔥 To purchase a full Stakeholder Management Hero bundle go here
---
Где и когда: