Stakeholder Management Hero (Education Course)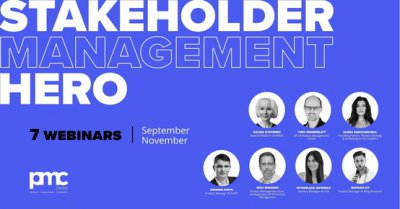 Working in b2b and you don`t understand why your product does not succeed? Why you don`t help the business and product does not reach product goals? It is all about the stakeholders communication!
Join the course and become Stakeholders management hero who knows how:
identify business stakeholders right and make actionable plan
how to manage and talk to C-level
what is expectations management and why it is so crucial
how to align everyone around the topic even when they do fight against each other
how to work with product sales, marketing etc
We are launching a bundle of 7 modules (webinars-workshops) to cover almost everything you need to know about Customer Interview
⚡️ PRICE 100 USD for 7 modules | To purchase a ticket go here
🔥 Or you can purchase a ticket for a specific module — look below!
TIMING/TOPICS/TRAINERS
⚡️ September 30, Module 1 | How to identify and register stakeholders
Trainer Bohdan Kidyk, Product Manager at SSMT
🔥 Tickets here
⚡️ October 07, Module 2 | Navigating the world of stakeholder inputs
Trainer Bohdan Kit, Product Manager at Ring (Amazon)
🔥 Tickets here
⚡️ October 15, Module 3 | How to manage without authority
Trainer Myroslava Iavorska, Delivery Manager at N-iX
🔥 Tickets here
⚡️ October 21, Module 4 | How can product managers interact with other teams to drive the best business results
Trainer Galina Ryzhenko, Head of Platform at ENSEK
🔥 Tickets here
⚡️ October 28, Module 5 | Stakeholder map technique
Trainer Timo Wagenblatt, VP of Product Management at SAP
🔥 Tickets here
⚡️ November 04, Module 6 | Conflict Management
Trainer Olena Zanichkovska, Founding Partner, Product Strategy & Marketing at The Gradient
🔥 Tickets here
⚡️ November 11, Module 7 | What your internal stakeholders really want
Trainer Rich Mironov, Product Consultant, Product Management Guru, Co-founder at the Product Camp conference
🔥 Tickets here
---
Где и когда: